Hey guys.
Here in the field of self-improvement, we are faced with an INTERESTING dilemma…
There are tons of "self-help" books and materials out there, and while many of them can be life-changing if applied correctly, lets face it: Anyone with a computer and a word processor can become a self-proclaimed "self-help guru".
This is BAD news for you (and me and… hell, anybody who wants to work on personal development, period!)
Luckily, you have the ability to put your trust in not only MY trial and error (that's right, I've read and applied pretty much every major self-help book on the market), but also the credibility and intellect of the author that wrote our FAVORITE LIFE-CHANGING BOOK (be patient! You'll find out what it is in just a minute… Promise) 😉
What is "Modern Asian Man"?
"Modern Asian Man" is the ONLY self-help book that we at Alpha Lifestyle endorse. Why is this? Because "Modern Asian Man" is not only paradigm-shifting in its content, but also easily applicable to your life. It is a MUST-READ for anyone who wants to create life-long change and attain the life of their dreams.
Why?
"Modern Asian Man" is perfect if you want to:
Attract Gorgeous Women

– "Modern Asian Man" contains all of the secrets to attracting women that personalities such as Leonardo DiCaprio, Wilt Chamberlain, and Gerard Butler ALREADY KNOW! Find out the WEIRD ATTRACTION SECRETS that separate you from those already in the know.

Handle Your Lifestyle

– Many people go their whole life without every attaining the lifestyle that they're looking for. "Modern Asian Man" explains why lifestyle is important, and illustrates all the steps necessary to achieving the lifestyle of your dreams NOW.

Overcome Stereotypes & Racial Prejudice

– Date the women that you want, REGARDLESS of your race or physical attractiveness. Humans, due to evolutionary imperative, naturally stereotype or "thin-slice" those that they encounter. "Modern Asian Man" details the INTERESTING ways to get around this unfortunate reality.
In addition, "Modern Asian Man" is RISK FREE. The author, an expert by the name of JT "The Asian Playboy" Tran, offers with the product a 60-Day Money-Back Guarantee. That's right; if you are not satisfied  with the product, you can return it within 2 months for a full refund.
For me personally, it's very important to see a guarantee like this when purchasing a product; not only does it offer a sense of security, but it means that the author knows that you'll be satisfied with it… Even better!
These are some pretty nifty reasons to grab Modern Asian Man, if you ask me.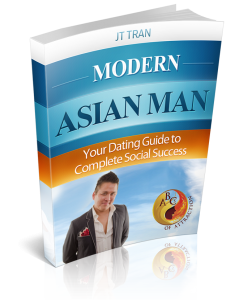 Sounds Great… But Will It Work For Me? 
Good question! I'm glad you asked 😉
What's great about Tran's approach to dating and lifestyle mastery is that he is coming from the perspective of the UNDERDOG. What this means is that Tran is able to perfectly understand the unique obstacles that those who are of an ethnic minority & those who are physically unattractive or otherwise disadvantaged face in dating and in life, his story told in Modern Asian Man.
After personally overcoming racial and other limitations that would typically hinder one's dating life, Tran is more than qualified to share his wealth of first-hand experience with others.
Also, since Tran is now so good with women and has such an enjoyable lifestyle, the majority of his social group consists of those who would be considered naturally advantaged in dating and in life.
As a result, Tran has vast understandings of both the underdog's and the hometown hero's approach to dating and life.
In short… Yes, it will work for you 🙂
TELL ME MORE!
While I could go on and on about the techniques contained in the ebook and the further benefits of the software, I know that you would benefit more from finding out first hand.
Check out "Modern Asian Man" to see if it's right for you… But hurry! Due to the potent nature of the material, there are only a limited number of copies available to the public.
Get your copy while you still can!
Good luck,
Ben J and Ozzie R