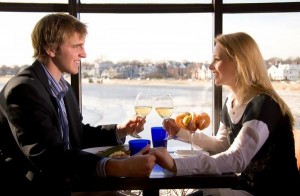 First Date Advice
Many guys seek first date advice because it is usually a nervous occasion for the majority of guys. You have finally landed a date with a girl your interested in, and now it's time for the first date, what should you do? Where should you take her? What should you wear? These are a few common questions most guys have. Not to worry, I am here to help and provide you with all the first date advice you need. You want the date to go successfully and want to make a good impression. In the following article I will outline the key pieces of first date advice to get you through the first date as well as ensure success and the all-important second date.
The first bit of first date advice is where are you going to go and what are you going to do? This is vital in ensuring a good first date. Do not be shy to ask her if she has any preferences on what or where to go as most likely you do not know each other that well so you will not know what each other's preferences are yet. If she says it's up to you be the man and make a decision. The most obvious and wise would be to take her for dinner at a restaurant. This is the perfect location and setting in which to get to know each other better and to start building your relationship. It is a good idea to ask if she has preference in a specific type of cuisine so you make sure you are not taking her to a place where she won't like the food. So now you know what you are doing you need to make arrangements on how you are getting there.
The second point of first date advice is planning how your going to get to the venue. Are you meeting at the location or picking her up from her place? Ask her and find out! Once you know where your going figure out how your getting there. On the day of the date make sure you get there early rather than late because you don't want to keep her waiting, although unfortunately it is fine for her to keep you waiting! You have all your plans in place for the first date so now for the most important part of preparation; yourself.
The third piece of first date advice is dressing accordingly. Deciding what to wear can be hard but all you have to do is dress according to the setting. If you're going to a restaurant a shirt and pants combination is perfect. A nice plain shirt will do just fine. Also grooming yourself is a must, clean shaven is on most occasions a good look although you know what facial hair style will suite you best, so groom accordingly. One of the most important pieces of first date advice has to be easy on the aftershave. A few dabs is more than sufficient, women don't want you smelling like a perfume shop!
With this first date advice in your mental bank you will be sure to wow your date. So I leave you with a few final pointers; have some topics of conversation prepared for those awkward moments of silence. Never text or answer a phone call while on a date as it is rude and shows signs of being uninterested in your date. Finally make sure you flirt with her and enjoy yourself!
I trust you have enjoyed my first date advice if you have any questions please feel free to drop a comment below!
I will be writing a couple more articles with quality first date advice so stay tuned!
Cheers,
bigP